Doe ook mee met de wandel-3-daagse van woensdag 18 tot en met vrijdag 20 mei 2022.
De starttijd voor de scholen wordt ingepland naar afstand op woensdag en donderdag tussen 18:00u en 18:45uur. Op vrijdag wordt er vanaf 17:45uur gestart. Hierover krijgen de scholen bericht.
Wil je ook meedoen alleen of met meerdere personen, dat is geen probleem. Starttijd voor individuele deelnemers is tussen 18:00-19:00. Tot uiterlijk 21:30uur kun je weer binnenkomen.
Je kunt je tot en met maandag 16 mei vooraf aanmelden door een mail te sturen naar wandelenbeleefgroenlo@outlook.com of een persoonlijk bericht te sturen via Facebook. Graag ontvangen wij dan de volgende gegevens
– hoeveel volwassenen/kinderen (jonger dan 18 jaar)
– of jullie een medaille zouden willen op vrijdag met je telefoonnummer
Als we dit hebben ontvangen, dan sturen wij een tikkie voor de betaling.
Bedenk jij je op het laatste moment dat je nog mee wilt doen, dan kun je je ook nog aanmelden op woensdag 18mei bij de start van de wandel-3-daagse (pinnen is mogelijk).
Er zijn 3 afstanden waar je uit kunt kiezen: 3, 5 en 10 km
De kosten voor deelname zijn:
Met medaille: volwassenen Euro 4,00- /Kinderen Euro 3,50
Zonder medaille: volwassenen Euro 2,50 /Kinderen Euro 2,00
Meedoen is op eigen risico, lees daarom ook nog even ons algemeen regelement
Op vrijdagavond is er een feestelijke intocht. Loop je niet mee, maak het dan extra feestelijk door alle wandelaars in te halen.
Wij hopen op een gezellige wandel-3-daagse met veel enthousiaste deelnemers.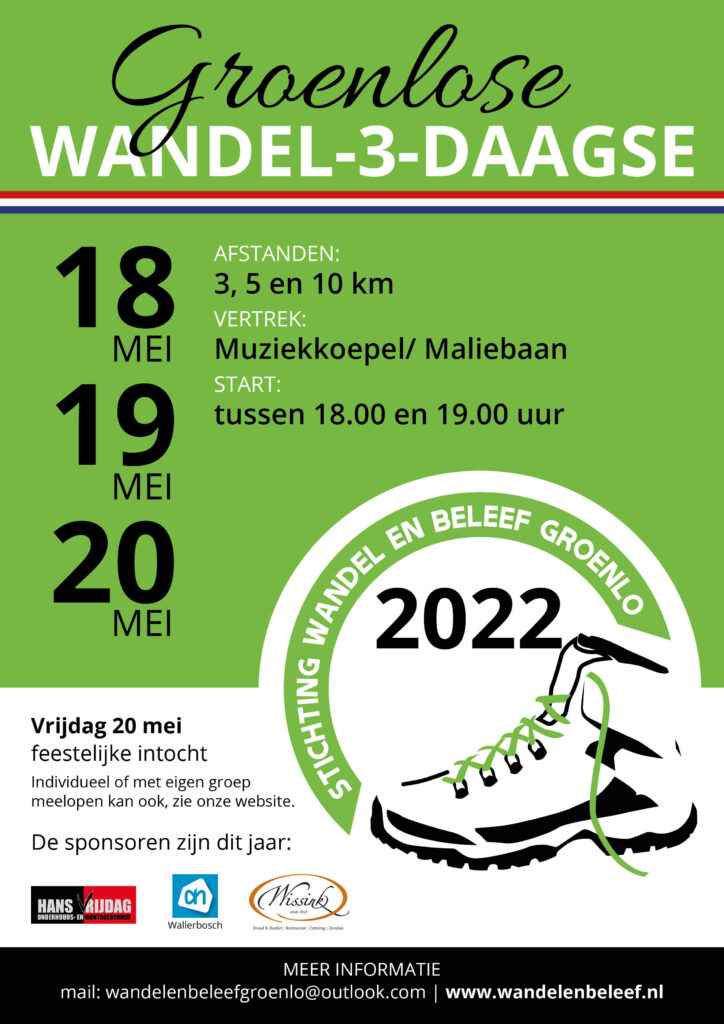 Please follow and like us: